Community Netball
82 Netball New Zealand Coach Developing Modules were run this year around the zone with the total of 710 coaches attending the modules in total. 71 coaches have gained their CCA award this year (14 coaches had completed the required modules in late 2014 but were registered in 2015). Another 12 coaches have completed the required modules but have yet to apply
11 coaches on the Performance Coach Programme were significant contributors in the running of the Central Pulse trials in August, and a number have lead components of the Zone Talent Development days.
Special thanks to Central Zone's independent Coach Developers for their contribution this year … Karen Bevan, Lindsay Filiata, Tania Lister, Lisa Murphy, Tash Rowlands, Valerie Sampson, and Ivy Topping. Currently Karen, Lindsay, and Tash are attending a series of coach developer training workshops run by Sport Wellington.
Congratulations to the following Zone and Centre staff for becoming Netball New Zealand accredited Coach Developers… Denise Aiolupotea (Hawke's Bay Netball) , Sandra Edge (NCZ) Maria Hegarty (Netball Wellington Centre) , Parekura Muraahi (Netball Wanganui) , Ann Rodgers (Netball Taranaki).
34 coaches observed the Silver Ferns during practice prior to the test against Fiji in July. Waimarama and Vicki were available for a Q n A which was appreciated by all.
Performance Coach Programme coaches Lindsay Filiata, Tash Rowlands, Lee-Anne Taylor, Lisa Tod have attended the NNZ Advanced modules
172 coaches attended other Coach Development Workshops throughout the Zone facilitated by Yvonne Willering, Tania Karauria, and Belinda Colling.
A highlight for the year was 'Keeping it Current – a weekend of workshops' held in September in Wellington. 50 coaches from around the zone attended throughout the weekend and were fortunate to learn from the likes of leading netball coaches including Waimarama Taumaunu, Adrienne Morrin, Te Aroha Keenan, Leigh Gibbs, Kirsten Hellier, and Tanya Dearns. TGfU guru Dennis Slade, HPSNZ Strength and Conditioner Simon Chatterton, Wellington Blaze cricket coach Mark Borthwick and tennis legend Belinda Cordwell also contributed hugely to a memorable weekend.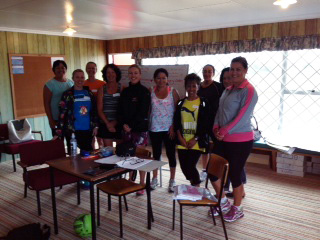 Horowhenua CCA Team: Over two weekends ten coaches from Netball Horowhenua completed the five CCA Modules. Pictured are… Dawn Benefield, Kirsten Brown, Kim Cook, Ada Graham, Leanne Harrison, Sarah Ryan, Kushla Laursen, Natalie Martin, Joanna Thompson, and Robyn Wills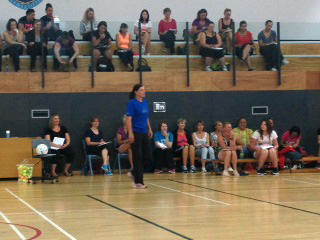 Belinda Colling had a big weekend in the Zone in March. Belinda ran four sessions in Palmerston North and Wellington. Here Belinda works with a group of secondary school players (they are there) whilst the 46 coaches attending look on gaining many useful ideas to apply to their coaching.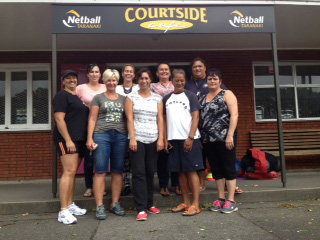 Ann Rodgers and her Taranaki CCA team get the season under way. Pictured after day one are Ann Rodgers, Joanne Hill, Christine McCullum, Moanna Manu, Mel Scott, Michelle Martin, Patricia O'Carroll-Leota, and Joan Hodson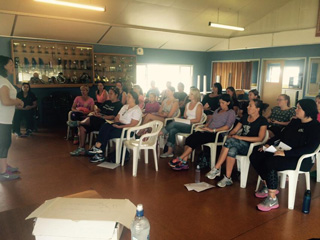 Former NZ Secondary school's coach and Former Auckland Diamonds Head Coach Tania Karauria share her knowledge with 23 Hawkes Bay Year 5-8 coaches on what it takes to run a successful season programme (March 2015)
Keeping it Current
In September just prior to the National Championships over 50 coaches attended the 'Keeping it Current' – a weekend of workshops held in Wellington.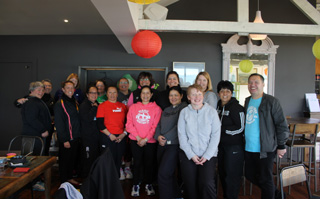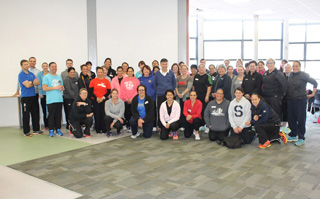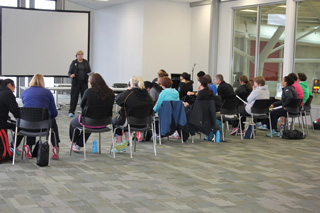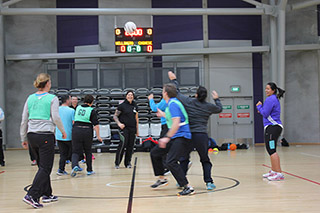 Its all about fun, enjoyment, and participation… NOT!