Netball Central Zone is delighted to announce the appointment of Norah Barlow to the board as an independent director. Norah is a highly-respected business woman, with vast leadership and commercial experience, having begun her career as an accountant.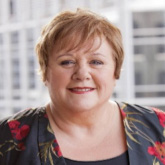 As the CEO of Summerset retirement villages from 1999-2014, she became one of only two female chief executives of NZX listed companies and was named Wellingtonian of the Year (business) in 2013. She was made an officer of the NZ Order of Merit in the recent Queen's Birthday Honours list.
Norah is a director of ASX retirement specialist Ingenia Communities, on the board of Cooks Global Foods, is an independent director of Cigna Life Insurance NZ and remains with Summerset in a non-executive director capacity on their board.
Sue Gordon, Chair of Netball Central Zone, is delighted to have someone of Norah's quality joining the board. "We are delighted to have Norah join the Board, she brings a strong commercial acumen and a wealth of governance experience. She is passionate about woman achieving in every sphere of life and we are excited about the overall contribution she will be making."
Norah said "I am thrilled to be involved in one of the most exciting sports in New Zealand, and to be able to contribute to the vibrancy of Wellington and the Lower North Island through Netball. I am looking forward to working with the NCZ Board and alongside members who have contributed to netball for many years."
Keep up to date with what's happening throughout the Netball Central Zone, 'Like' our page on facebook/Netball-Central-Zone.