Haier Pulse's England star Ama Agbeze is looking forward to this Monday's game against the New South Wales Swifts in Sydney, but doesn't believe the team's biggest challenge will come from facing the Australian side.
"I don't actually think our biggest challenge will come from the Swifts, but rather from ourselves," she explained. "As illustrated last week against the Tactix, it doesn't matter what team we are playing, if our team can't get those things right they won't come out on top.
The Haier Pulse provided a shock result on Sunday when they lost 53-55 to the bottom-placed Tactix in front of a home crowd in Napier. Ama certainly feels the loss has given the team a jolt. "It was a case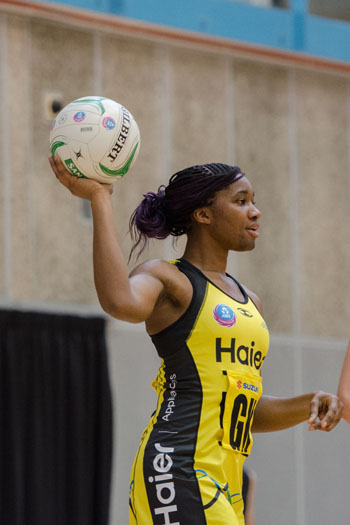 of basic errors and miscommunication. The Tactix were definitely hungry for the ball. We went over the footage at training and looked at the errors. It was like they just compounded. A lot of simple things: ball placement, poor timing. It all crept into our game, and goal by goal the Tactix worked their way back into the game and capitalised on our errors."
During her ANZ Championship career, Ama has played for two Australian teams: the West Coast Fever in 2008 and Melbourne Vixens in 2009. Does she perceive a major difference in the Australian approach to netball?
"Commentators have highlighted continuously that in NZ some players fly in and out and aren't based in the same city their teams are. I think this is mainly for geographic reasons, but it is a main difference between NZ teams and the Aussies. The UK would be similar to NZ, as you may drive for two or three hours in each direction to get to training with your team.
"In the UK, not all teams have all their sessions together, they may do their strength and conditioning away from the court in their own time, wherever is convenient for them, and simply travel for court sessions, usually on a Tuesday and Thursday, whereas the Aussie teams have a lot more court sessions.
"The Aussie and UK playing styles are quite similar. It's very man on man, contesting every ball, with a 6ft defender over the ball carrier. In NZ, there is more off marking and the game actually seems to flow a little bit more.
"The Aussie/UK style demands that you run hard, body on body, and so can appear faster, whereas the NZ style often requires deception, making a pass seem open when you have every intention of closing it down for the intercept once the ball has been passed. They're just different ways of achieving the same aim."
Observers of the game may suggest that the biggest difference between the trans-Tasman netball teams is the coaching. Is this something Ama would agree with? "I wouldn't say they are coached differently per se. Every coach is obviously different and wants different things from their players, but I do think that some coaches have a perception of what intensity they think you should be operating at and demand that you give it to them."
This is the first time Ama has been coached by the legendary Robyn Broughton. "Rob is an excellent defensive coach, and is great at coaching team defence and zones," she said. "She is into getting the basics right. Passing, catching, and making sure we retain possession. Yet she is also happy for spontaneity and flair. I think at this level a coach is more a manager of players, and finding the best way to pool their prowess, understanding and opinions."
Although the performance of some of the New Zealand teams last weekend was more than encouraging, what does Ama think the New Zealand teams need to do to improve their game plan when they face their trans-Tasman cousins? "I think get over the body on body contest. Players will run with you, but we need to take that extra step to the ball, and use our bodies assertively to protect the ball. Stepping around the hands that are pressuring the pass, and ensuring that our teammates offer in appropriate places where we can see them and get the ball to them safely. Basically, just be smarter with movements and the ball."
Ama will be up against NSW Swifts and former Haier Pulse shooter Caitlin Thwaites, who is a whole 10cm shorter than the competition's tallest shooter, Southern Steel's Jhaniele Fowler, so she shouldn't pose the same problems for the Pulse defender. Does Ama believe tall shooters are a real issue in today's game?
"I think the game just needs to adapt. In life you just have to deal with what is thrown at you, especially if you can't change it. If the shooters are tall, we have to learn to deal with them. We have to work with what we have, we jump higher (weights and good genes help this), we do the "HH" (weights, weight and timing help this), and best of all, the players defending outside the circle work hard to put pressure on the ball all the way down court before it gets to the shooter. Besides this, I think defenders will get taller too eventually, and the game will adapt again."
Could we see Ama attempting the Hoist? "I would definitely attempt it, but I'm not the lightest of players and so I think I'd be the one doing the hoisting!"
Ama played for the Haier Pulse in 2010, so Wellington isn't new to her, but could she call the capital home?
"I don't really have a home. Until recently it was Perth, Western Australia. But, for the first time in about seven years, I spent six months in the UK before heading to NZ and really loved it. All my family are in the UK, and I do miss them. But I'll just run with – I'm a woman of the world, and where I lay my head is my home. For now that's Island Bay, Wellington!"
Catch NSW Swifts v Haier Pulse on Sky Sports 1 at 9.30pm. Highlights are also broadcast on Maori TV on Tuesdays at 8.30pm.
The Haier Pulse play the next home game in Round 9 at Wellington's TSB Arena against the Melbourne Vixens on Saturday 26 April. This is part of the exciting weekend of ANZAC celebrations in the capital which also includes an AFL game at Westpac Stadium between St Kilda Saints and the Brisbane Lions on ANZAC Day.
Tickets to Haier Pulse v Melbourne Vixens can be obtained from Ticketek by clicking here
The team will play Round 10 at Te Rauparaha Arena, the home of the Haier Pulse, when they face the WBOP Magic on Monday 5 May at 7.40pm.

There are a limited number of tickets so get in quick! Tickets can be purchased from Ticketdirect by clicking here
Follow @HaierPulse on twitter for score updates and 'like' facebook/Haier.Pulse to keep up to date with all things Haier Pulse.