Vision
Netball Central Zone's (NCZ) performance vision is to become the pre-eminent netball zone in the country by achieving consistent and regular success in the ANZ Premiership and the Beko league; by dominating zone representation in the Silver Ferns, the New Zealand under 21 team and the New Zealand Secondary School team; and by supporting our centres to dominate national age group competitions.
Guiding Principles
Just as Netball New Zealand (NNZ) seeks to produce Silver Ferns who win, NCZ seeks to produce future Silver Ferns who win as Pulse players and contribute to both NNZ's and NCZ's winning targets.
In line with NNZ's centrally led and regionally delivered performance pathway, NCZ seeks to produce winning Pulse and Beko teams that are self-sustaining through excellent age-grade development programmes delivered by our centres.
Like NNZ, CNZ's approach to player development is player centred and focussed on the following principles:
We aim to be the first choice sport for female athletes in our zone
We seek athletic potential from every background
We cast our net zone-wide, geography is not a barrier.
In common with NNZ, CNZ believes a world class netballer comprises four essential elements – hauora, physical, technical and tactical.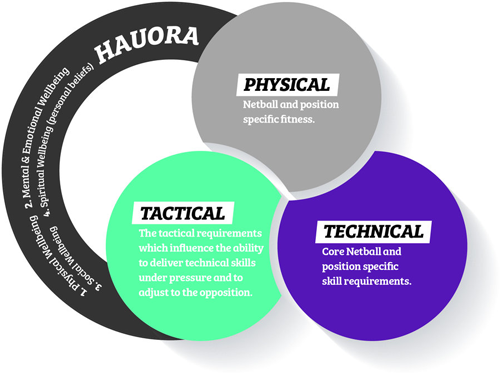 Essential Elements of a Silver Fern
Staff
| | |
| --- | --- |
| High Performance Director | Waimarama Taumaunu |
| Performance Manager | Pelesa Semu |
| PULSE Head Coach | Yvette McCausland-Durie |
| PULSE Assistant Coach | Sandra Edge |
| PULSE Operations/Team Manager | Jo Holmes |
| BEKO Head Coach | Pelesa Semu |
| BEKO Assistant Coach | Anna Andrews-Tasola |
Click here for more on our staff