Vision
In 2019 Netball Central Zone's (NCZ) performance vision to become the pre-eminent netball zone in the country was achieved when the Zone captured both the Central Manawa Championship and the ANZ Premiership.
Our strategic vision for the next three years is:
To maintain this pre-eminent position by continuing to achieve consistent and regular success in the ANZ Premiership and the Central Manawa Championship.
Continuing to dominate Zone representation in the following teams:

Silver Ferns
New Zealand U21
New Zealand Secondary School

Identifying early and then developing our best netball talent from across the Zone.
Continuing to support our centres to dominate national age group competitions.
Guiding Principles
The ultimate measure of any high performance team is winning in pinnacle events and winning is the ability to consistently deliver under pressure. The premise of this strategy is that players who can deliver under pressure are produced by a strong, performance system that combines a structured learning environment with appropriately challenging competition opportunities. At NCZ we believe that to win pinnacle events, we need a performance system which produces athletes with the skill set to win and a campaign programme that equips them with the playing experience and understanding of how to win under pressure.
As NCZ, we form one part of Netball New Zealand's (NNZ) high performance system and our performance plan aligns directly with theirs. We recognise and respect that NNZ explicitly recognises the ANZ Premiership as a key driver in the Silver Ferns success.
Therefore, NCZ aims to deliver a high performance system that produces future Silver Ferns who win as Pulse players and inspire our Zone.
NCZ's high performance system is centrally led and regionally delivered. At every level of our high performance system, we seek the right people; we support them with the right processes; we place them in the right positions; and we ensure they experience the right learning and playing opportunities.
NCZ's approach to performance development is player centred, coach lead and system wide. Our promise to every netballer who enters our high performance system at any level is simple – you will emerge a better player and a better person. Our promise to our Zone stakeholders is that our system will produce young women whose on and off court exploits will make us all proud.
At the Zone level, the NCZ high performance system encompasses the Pulse and Central Manawa programmes, which are delivered centrally through detailed campaign plans which prioritise individual development alongside team outcomes.
At the Centre level, the NCZ high performance system will comprise four targeted talent development programmes in the four lead Centres; and support for all Centres to deliver excellent age-grade representative programmes.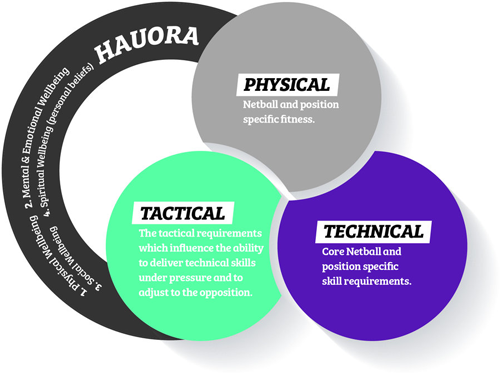 Essential Elements of a Silver Fern
Staff
| | |
| --- | --- |
| NCZ High Performance Director | Waimarama Taumaunu |
| PULSE Head Coach | Gail Parata |
| NCZ Performance Manager PULSE Assistant Coach | Pelesa Semu |
| PULSE Operations Manager | Jill Clapcott |
| Central Manawa BEKO Head Coach | Anna Andrews-Tasola |
| Central Manawa BEKO Assistant Coach | TBC |
| Central Manawa BEKO Team Manager | TBC |
| NZC Head of Selectors | Aroha Marsh |
Click here for more on our staff