NNZ has developed a series of player profiles to better understand New Zealand's athlete pool and to identify and address those athlete's development needs.
NCZ has adapted these player profiles to provide maximum effectiveness in our zone.
In the Pulse and Beko programmes, our focus will be on producing

proficient

and

advanced

athletes who can win their respective domestic competitions;
In the NZSS identification and development programme, where the lead is shared between NCZ and the centres, our focus will be on producing

competent

athletes who dominate NZSS selections;
All our centre age grade representative programmes will move from

novice

to

developing

player profile standards and our centre age grade representative teams will achieve top four placings at national events
We will support our centres to assess our athletes using the adapted player profiles. We will achieve this by developing and distributing appropriate resources and inducting centre volunteers and staff in how to use them.
We will also work with centres to provide support for those athletes we identify. We will also work with centres to help them support their identified athletes to enter and progress through the NCZ pathway, with the ultimate goal of being selected into NNZ programmes.
Figure 5 below summarises the NCZ player profile performance standards at each level of performance. The following key (Figure 4) explains the assessment terminology used.
| | |
| --- | --- |
| NOVICE | Rule governed. Needs structures and rules to guide performance. Response to situation is limited and inflexible |
| DEVELOPING | Demonstrates acceptable performance of basic techniques and can start to apply them with support and supervision |
| COMPETENT | Performance is efficient and organised but lacks speed and flexibility to adjust |
| PROFICIENT | Understands situation/skill as whole. Can adapt to situations. Techniques are performed fluidly, accurately and at pace |
| ADVANCED | Highly intuitive and characterised by doing the right thing at the right time |
Key - NCZ Player Profile Performance Standards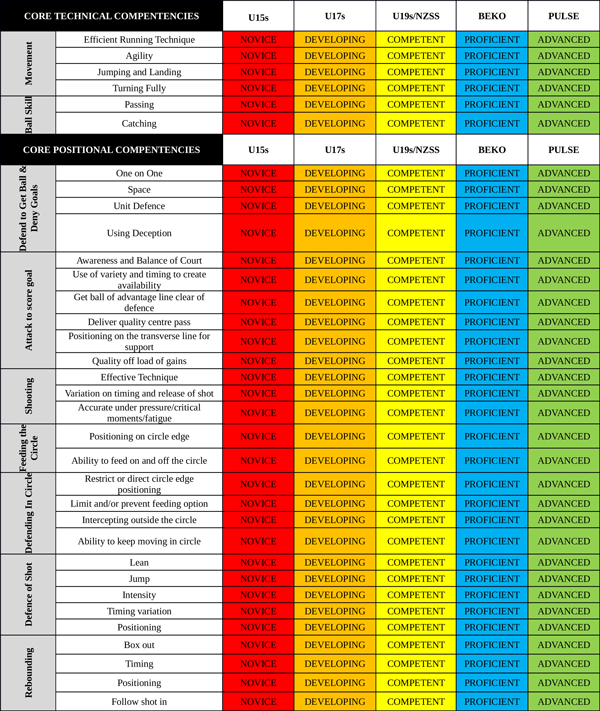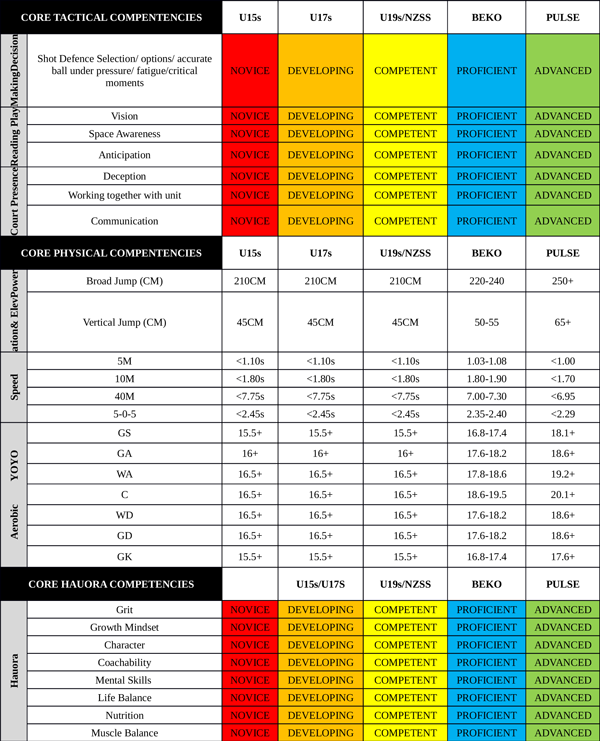 NCZ Player Profile Performance Standards